Singing Lecture by Corey Dolgon
10.05.2019 | 18:00 Uhr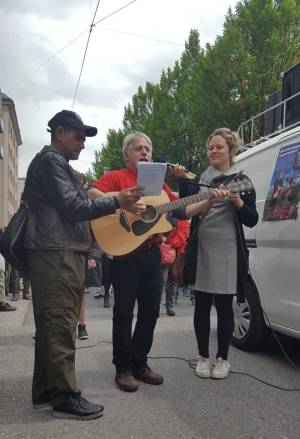 ORT: Volksheim Garten, Elisabethstrasse 11
Wir freuen uns sehr, dass Corey wieder nach Salzburg kommt. Zu diesem Anlass veranstalten wir eine seiner berühmten Singing Lectures mit ihm.
In Search of One Big Union: Folksongs and the U.S. Labor Movement
A Singing Lecture by Corey Dolgon Folksinger and Sociologist
Corey Dolgon, a Ph.D in American Culture and Sociology Professor has been performing "singing lectures" for almost two decades. Focusing on the role that folksongs play in the U.S. labor movement, Corey's words and music bring both history and theory to life. He is a long-time labor activist and community organizer and has used folk songs to build solidarity on the line and engage students in the classroom. This singing lecture covers labor history from a multicultural perspective and examines the function of folk songs in workers' lives, labor, and organizing. The lecture can be tailored for specific needs and time periods, but generally runs about an hour to an hour and a half depending on format. Corey is very adept at gaining audience participation and provides an object lesson in how the collective acts of singing can enhance the feelings of solidarity and create new possibilities for collective identities.
Here's what students, faculty and labor folk have to say about Corey's performances:
Simply said, faculty and students at UCF were blown away by this unique method and message. Professor Dolgon's ability to weave stories through song was powerful and thought provoking. Unlike any academic lecture I have experienced, I was eager to hear the next story and was disappointed when it was over. My students agreed that it was by far the most interesting colloquium they have ever attended. –Scott Carter, Sociology Dept. University of Central Florida
"Corey's work weaves together a coherent and accessible narrative about labor struggles with a tour de force of labor songs that move an audience with workers' own articulate descriptions of their conditions and inspiring visions of movements to improve those conditions." –Chris Dale, Professor of Sociology, New England College
"Corey's music added tremendous spirit to our National Labor Assembly. Hearing and singing labor songs gave our nurses a sense of community with others in the union movement and helped build energy at our meetings. I encourage other unions to add Corey's talents and expertise to their agendas." –Cheryl Johnson, President, United American Nurses, AFL-CIO
"Well grounded in academic literature and the multicultural American songbook. Imagine an event that attracts from every campus demographic: international students, faculty, staff, undergraduates, emeriti faculty, and community activists, and has them all standing together enthusiastically singing songs about solidarity. We have never had an event like this! I have already had requests to bring Professor Dolgon back!" –Melinda Jo Messineo, Sociology Dept. Chair, Ball State University
Corey Dolgon's "singing lecture" is a hit. Those who attended–from union retirees to active union member to academics and management were entertained and enlightened. A good time and good learning. –John Ralston, Asst. Director, University of Louisville Labor-Mgt Center
Corey's wonderful voice, abundant energy, and great knowledge about folksongs, the labor movement, and other social movements were entertaining, very informative, and inspiring. He made a major impact on WPUNJ, performing in front of almost 300 students and faculty. –Kathleen Odell Korgen, Sociology Professor, William Patterson University
Mit freundlicher Unterstützung der ÖH Fakultätsvertretung Kultur- und Gesellschaftswissenschaft